About Bar Modular,
a Belgian mobile bar company.
Bar Modular is a Belgian family business. Grown out of Toogpunt, we offer over thirty years of experience and expertise in designing and manufacturing mobile bars in Belgium and across Europe.
More than 85% of our products are purchased by Belgian and European companies.
All our bars are 100% assembled in our own workshop in Belgium.
Our mission: bringing the standard of mobile and portable bars to a higher level!
Bar Modular wants to introduce a new standard by creating bespoke mobile and modular bars. To achieve and maintain our mission, we are constantly looking to improve:
The materials we use
The treatment of surfaces
The ergonomics of (dis)assembling the bar
The compactness of the bar(s) to guarantee the most efficient transport and the lowest logistical costs.
Our range is a reflection of the latest stylish designs and trends, to offer you the most attractive bars with the best usability.
N.B.: The second largest part of our budget goes to Research & Development, after Human Resources.
Choosing Bar Modular is choosing a green solution.
We contribute to a better environment in four ways:
Our office has a climate ceiling,
which saves a significant amount of energy compared to central heating.
Most of the electricity we use comes from our solar panels.
We installed 300 solar panels and had our entire electricity network modified.
We work with a 'basic system' in which every component is replaceable.
This reduces waste: in the event of damage, only one part of the bar needs to be repainted or replaced if necessary.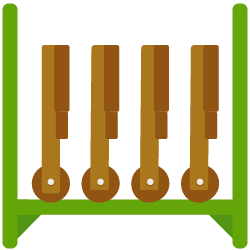 Our Portable Bars without a wheelbase can be folded flat and take up very little space.
They can be transported in a van rather than a truck and they require little storage space.
Only 3m² is required to store a 20m bar!
Toogpunt and Bar Modular:
style, service and a passion for bars
Toogpunt has long since been a pioneer in bar rental for quality events.
The most bespoke event organisers have for many years chosen Toogpunt's stylish bar design and excellent service. As a sister company of Toogpunt, Bar Modular supports the same standards and values.
Let us know what kind of bar you are looking for, as we are always up for a challenge.
Are you convinced?
Please ask us about the many possibilities.
This website has been developed with the support of